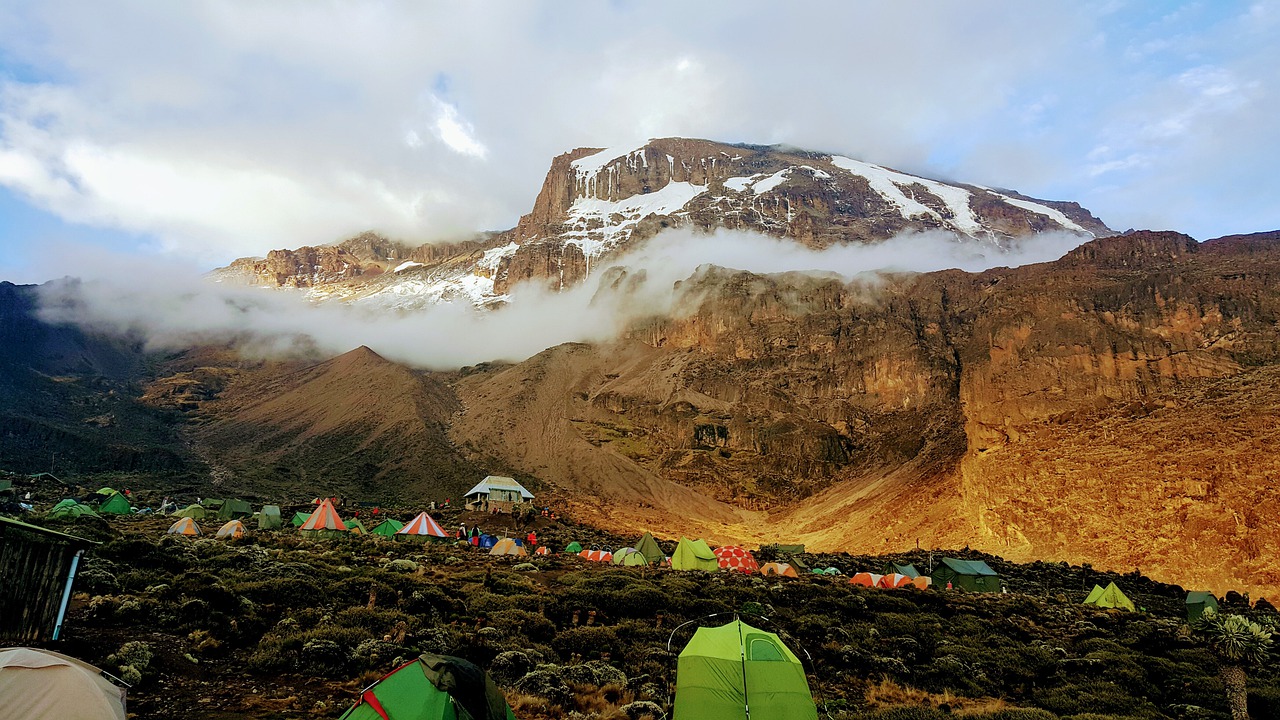 PICK UP
Kilimanjaro Internatonal Airport - KIA / Arusha Airport
NUMBER OF DAYS
6 Days 6 Nights
CATEGORY
Climbing & Trekking
Tour Overview
The Machame route, also known as the Whisky Route is one of the most scenic and recommended routes on Kilimanjaro. This popular route with paths through magnificent forests to gain a ridge leading through the moorland zones to the Shira Plateau. It then traverses beneath the glaciated precipices of the Southern Ice fields to join the Barafu Route to the summit. Because it can be done over longer periods and the incline is more manageable it has a much higher success rate of summit.
Itinerary
Day 1: Machame Gate – Machame Camp
You will leave the hotel in the morning to arrive at the Machame gate for registration . After registration you will start a trek with your trekking team who will be with you to the mountain. You will start at an altitude of 1800 metres and you will have a walk of about 5 hours for 11 km before reaching Machame camp where you will have dinner and overnight.
Day 2: Machame camp – Shira cave
After breakfast you will start a walk, the path you will pass through is narrow, steep and dusty. You will walk for about 5 hours before reaching Shira cave where you will overnight. On the first day, hike through the moss-covered trees of Kilimanjaro's cloud forest. The forest will thin at the end of the hike and vegetation will change to include heathers, tall grasses and wildflowers. If the weather is clear, view the surrounding area and your ultimate destination, Kibo Peak.
Day 3: Shira cave – Barranco camp
In the morning you will have breakfast then you start walking for the same journey looking to summit though not today, you will have to cover about 10km of which about 7 hours will be spent excluding breaks. By the evening you will have 140 metres higher than yesterday before you descend to Barranco for dinner and overnight. The trees diminish in size, giving way to Kilimanjaro's famous high altitude plants, Scenecio kilimanjari and Lobelia deckenii. After eating lunch, climb the Shira Plateau, created when Kibo's lava flows filled the Shira crater.
Day 4: Barranco camp – Barafu camp
Today is the tough day after breakfast you will have to climb an almost vertical wall called Barranco wall or breakfast wall, you will have 9 km walking distance but in between you will have lunch at Karanga before reaching Barafu camp for dinner.
Day 5: Barafu camp – Uhuru (summit) – Mweka camp
Finally the day you were waiting for comes, it is the exciting day but very tough, you will start a walk at midnight you will climb from Barafu at around 4600 metres to Stella point 5745 metres. From there you walk for around 40 to 50 minutes to reach the summit. You will reach the summit in the morning around 7 where you will celebrate and take photos plus many more which can be done before you return to Barafu camp for the preparation to get to Mweka camp where you will have dinner and overnight.
Day 6: Mweka Camp – Mweka Gate
After breakfast and celebrations with your trekking team descend down to Mweka gate where you will have lunch and certificate for the hard work done. The transport will be ready to take you back to the hotel for the preparations to take another safari or go back home the next day.
End of Trip 
USD 290 per person per day
Safari Includes
 Lemosho Route
 Coaster Bus
 Kilimanjaro Guide
 Camping Equipment
 Taxes
 Meals and Accomodations
 Arrival and Departure Transfer
 Entry Fees
Safari Excludes
 Own Room
 Tips for the Lodge/Camp Staff
 Tips for Driver Guide
 Drinks at the lodges/campsites
 Travel Insurance
 Medical Insurance
 Visa
 Breakfast